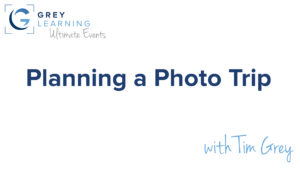 Registration is now open
for the first in a series of live online 
GreyLearning Ultimate Events
. The first event will be on the subject of 
"Planning a Photo Trip"
, and will be presented live online on 
Wednesday, April 19th, from 1pm to 5pm Eastern Time
.
What's so "ultimate" about the "GreyLearning Ultimate Events"? Well, to start with they're 
free
 to photographers who subscribe to my GreyLearning Ultimate Bundle (
http://timgrey.me/atg99bundle
). Recordings of all presentations will also available, so you can watch even if you can't attend live, or review the presentations at any time. Importantly, these events leverage my extensive experience in photography, digital imaging, and more, to provide in-depth information to help you master the subject matter presented.
If you're 
not
 a GreyLearning Ultimate Bundle subscriber, that's OK! Non-subscribers can attend the live online event and access recordings of all presentations for
just $20
.
You can get all the details of this upcoming live online event here:
I look forward to helping photographers plan for fantastic photo trips with the first GreyLearning Ultimate Event, and I hope you'll join me for this and future events.