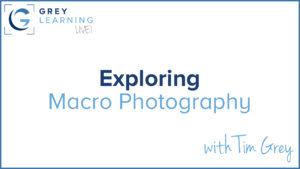 In my next live online presentation as part of the "GreyLearning Live!" webinar series, I'll will provide tips for photographers interested in exploring the world of macro and closeup photography.
The live presentation will begin at 12pm Eastern Time on Tuesday, December 13th.
During this presentation you'll learn about some of the top gear that can help streamline the process of capturing macro photos, get tips on overcoming some of the key challenges of macro, and much more. Along the way I'll will be happy to answer questions from those attending the live online presentation.
To register to join me for this live online presentation (or get access to a recording after the live presentation) fill out the form here:
https://timgrey.me/webinar221213