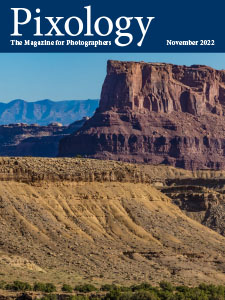 The November 2022 issue of Pixology magazine is now available, featuring the following articles:
New Features in Lightroom Classic 12: Powerful new features in the latest update to Lightroom Classic, including content-aware image cleanup and improved masking for targeted adjustments.
New Features in Photoshop 2023: Details of the latest updates to Photoshop, which add interesting improvements.
Calculating Depth of Field: Learn to plan your photos and gain a better understanding of the factors impacting depth of field.
Date-Based Folders: Recommendations for using a careful and consistent approach to make the most of date-based folders for your photos.
Photo Story: Shadows on the Interstate: A play of light and shadows added a slight delay on a road trip that wasn't actually focused on photography.
Pixology magazine is included in the GreyLearning Ultimate Bundle, and is also available as a standalone subscription here: