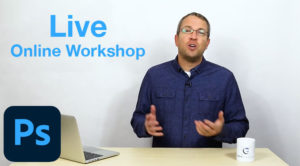 I am excited to announce that I will be teaching a comprehensive live online workshop over the course of a weekend in April, focused on helping photographers make the most of Adobe Photoshop for optimizing their photos.
The live online workshop features:
Two full days of online "virtual classroom" sessions with live demonstrations and practical examples (don't worry, we'll take breaks throughout the day including a break for lunch).
Access to recordings of all workshop sessions, including the option to download the recordings to your computer or mobile device.
Opportunity to get your questions answered during the live online sessions.
Option to submit follow-up questions via email.
Limited class size to ensure personal attention.
And more!
The online sessions will be held on Saturday and Sunday, April 23-24, 2022, from 10:00am to 5:00pm Eastern Time. If you're not able to attend part of the live online sessions you can review the recordings for any missed sessions and still get answers to your questions during the following sessions or via email.
If you would like to gain confidence in your ability to optimize your photos with the powerful tools Photoshop provides, you won't want to miss this online workshop experience!
You can get all of the details of this comprehensive online workshop here:
https://www.greylearning.com/courses/online-workshop-mastering-photo-optimization-in-photoshop
I'll hope to see you in my "virtual classroom" in April!