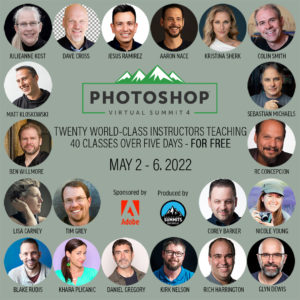 I am excited to once again be teaching as part of the Photoshop Virtual Summit, which will be held May 2-6, 2022.
You can attend this online virtual event for free, learning from 40 classes over the course of five days, taught by myself and nineteen other great instructors. My classes will include "Perfect Color in Photoshop" and "Leveraging Layer Groups in Photoshop".
There is also a VIP Pass that includes lifetime access to recordings of all presentations, class notes from all of the instructors, and more.
For a limited time you can get the VIP Pass Early Bird at a discounted price of just $99. After May 2nd the price will go up to $159, so you'll want to register now.
For all of the details, or to register to attend the Photoshop Virtual Summit, go here:
https://timgrey.krtra.com/t/98zFce5DKGdT